Are you tired of Acne, Hair Loss, Wrinkles and Cellulite? 
 Healthy Skin in as little as 2x week! HELLO GEORGEOUS! 
Our facial Fusion wand uses oxygen to kill bacterial and enhance cell metabolism. No more expensive creams or spa visits. For use on face, chest, neck, back, scalp and thighs.
BENEFITS OF THERAPY WAND
Reduce Acne & Blackheads
Tone Double chins & Cellulite
Shrink Large Pores & Acne scars
Remove Puffy Eyes & Wrinkles
Stimulate Hair growth & Reduces Dandruff 
Minimizes Scars/Blemishes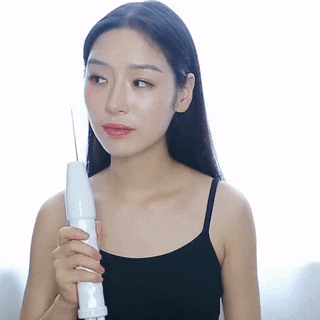 ✅ The wand improves texture tone & complexion. This therapy Reduces dark circles, cellulite and double chins fast. Suitable for all skin types as well as promotes scar healing what other natural product does that?

✅ SAFE, PORTABLE, AND EASY TO USE: Pain free device that increases blood flow to reduce inflammation, detox skin and accelerate hair growth all with one device. Replace your 3 hour routine today!
✅ SPA QUALITY, LIFE TIME SAVINGS, SAVE TIME, SAVE MONEY. Natural healing top anti aging device out there.
😁Limited Stock available: Once we reach a certain amount sales, price will go back up!👈
Limited time offer! Free shipping today! Buy now beautiful skin is just a click away.
Our 

Guarantee

:
 

 Tracking number for every order

 

 Safe secure payments 

 

 Money Back Guarantee

 

 

24x7 Customer support
Yours risk free! Don't like send it back for full refund No questions asked! 
 Premier quality product manufactured with highest standards for you.
Reliable customer service questions or concerns contact service@youloveweship.com
Many happy customers rave about there beautiful skin.
Functions:
1. Helps to calm the nerve and analgesia function.
2. Produce the ozone for sterilization, help wounds to heal and restrain pores.
3. Accelerate blood circulation and improve metabolism.
5. Anti-aging, anti-wrinkle, tighten skin.
Package Includes:
1 * Beauty fusion machine 
4  * Beauty wands  
1  Year warranty 
Instructions:
 Scalp: Apply comb to wand and brush area to promote hair growth or reduce dandruff.
Larger area: Chest, back, thighs and neck use mushroom tool for best result.
Choose wand tool  then mount in handle.

Turn on power supply & turn on switch.

Place finger on glass wand tool to adjust frequency.

Place tool on face & remove finger. Start moving wand in circular motions placing only 1-3 min on areas. Use face creams to intensify absorption with wand use.
Cleaning: Wipe down wand & tool while unplugged with soap and water lightly, then lay out to dry out between use.
What to expect: 
 *Slight tingle when applied to skin
* Slight redness after use
*Normal sparkle when using wand
*If need to reduce frequency for more gentle use apply gauze or cotton ball between wand and face.
Works fine, checked simple use It came fast enough.
WOW is all I can say
I ordered online and it came really fast. The reason I bought was because I have very severe cystic acne. I had been seeing a dermatologist for the past three years and I had gave up hope nothing was working and the regimens were to complicated with my normal day life. This device was simple and I started to see results fast within the first week. I would totally recommend this device every day I wake even happier than the next because my skin inflammation and daily breakouts are less and less. So happy I found this for my acne!
Super easy to use. I use it nightly before bed. I had bad acne on my chin and jaw. This has helped wonders! I can not tell you how happy I am with this. My pimples go away in a couple days after I get them but i hardly ever see those things unless im just not maintaining my skin.my old scars have lightened up sooo quick and are faded close to nothing in about a week. This has definitely gave me some confidence back. I wash my face well, put my serums on then use this. After Im done I put on moisturizer and good to go.
Great item
It works. And you can probably use less products / eventually eliminate them. After a week, my face feels extremely soft and looks even and balanced. As for anti-aging, i see this working for this as well. I am happy that I took a chance and ordered this device. My suggestion is that you watch some You Tube from estheticians who demonstrate the proper use of it for the face for ideas.